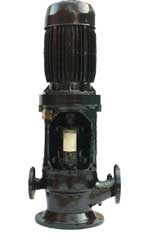 The type FVE centrifugal single-stage vertical shaft pumps have a compact design that helps save space. The electric motor is mounted on the pump.
The suction and discharge flange are in-line. They are suitable for pump plants handling sewage, process, drainage and other chemically neutral liquids containing non-abrasive debris.
The open type impellers prevent clogging.
The casing is wear-protected by renewable discs. The sealing of the shaft is by a mechanical seal. Performance range: flow rate 5,5 -211 l/s; head 17 - 38 m; maximum admissible size of non-abrasive debris 10-50 mm (
Table
).
At client's request and after consultation with the manufacturers, the pumps can be made of materials resistant to the handled liquid