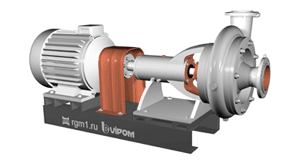 The centrifugal single-suction pumps type "SH" are designed or transportation of chemically neutral slimy and shaft water and pulpy liquids with temperature up to 80°C.
Their simple and reliable design guarantees flawless operation under hardest conditions. The application of open type impeller excludes the possibility for blocking with slime and interruption of operation. Thus these pumps are widely used in construction and communal economy for transportation of waste and fecal liquids, in animal farms for mechanized feeding of food to animals, in industry and mining for drainage, etc.
The pumps type "SH" are driven by three phase induction motors with rotation speed 1450 rpm or 2900 rpm and meet requirements for 5,5 to 50 l/s discharge and 35-40 m head.
The pumps type "SH" are executed with bearing body where the shaft rests in two ball bearings. The impeller is attached to the shaft by a bracket. The suction of the liquid is always along the shaft axis and the discharge is in a plane perpendicular to the shaft axis with a possibility to be fixed at every 90°, depending on the conditions. The discharge branch of the basic version is directed vertically upwards.
The impeller has one-sided in-flow of open type. The impeller is attached and fixed to the shaft by a dapper screw-nut and washer, the rotation is transferred by a spline connection.
The parts of the pump body are protected from wearing out by replaceable protecting discs and the shaft - by a protective sleeve.
The tightness between the spiral and suction, the shaft is packed by a sealing of an oiled cotton rope (sealing gland) and clamping studs and nuts.
The pumps "SH" are assembled with the motor on a common frame made of section steel. The drive is transferred by elastic pin clutches. The direction of rotation of the rotor is counter-clockwise when looking from the suction side.
The indication of the pumps includes the following symbols:
50SH40
| | | |
| --- | --- | --- |
| 50 | - | nominal flow l/s |
| SH | - | centrifugal single-suction sewage pumps |
| 40 | - | total head at nominal flow m |
The material of the basic parts of the pump according to the different versions
Detail
Construction materials
Standard
impeller, suction body, discharge body, coupling and protecting disc
grey cast iron
shaft and assembly elements
steel
Indication of materials