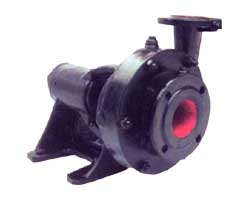 The centrifugal single-stage pumps FS have an open impeller for free water flow. The impeller is mounted at the bottom of the volute casing.
This design provides space for passing of heavily polluted chemically neutral waste-water, sewage water etc.
These pumps are suitable for pump plants in industry; agriculture, drainage works etc. to handle water containing non-abrasive debris of maximum size 34 mm. In case of abrasive solids the impeller is made of wear-resistant materials.
Performance range: flow rate - 15-180 l/s; head - 13-32,5m.